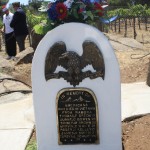 2016 Memorial Day Service will be at noon. Please join us to honor the Vietnam KIA and MIA from Ramona.
The memorial was erected on Memorial Day 1990. The men from Ramona that were killed in Vietnam that are honored here are:
Duane Bowen – Age 20
Marvin White – Age 21
Roger Kelly – Age 21
Tanner Brown – Age 21
James Smith – Age 21
Thomas Green – Age 21 (MIA)
Eureka L. Schmittou – Age 38 (MIA)
We are still looking for the family of James Smith to let them know that this memorial has been built for them. If you Know This Family Please Let Them Know And Give Them Our Contact Information So That We Can Share This With Them.
Every Memorial Day at high noon, local Vietnam Veterans come to the memorial to change the flags and give respect to their fellow soldiers.